"The reason I applied for the role of Apprentice Designer at MPSL is that I have always had an interest in construction and how each aspect is planned and executed within a team of people. This all started when I began labouring for an independent company at the age of seventeen. I learned the basics of all the trades and was introduced to small scale plans which fascinated me and I was intrigued to learn how they are created.
I did have a break from construction when I went to university. Studying Sports Business management in Leeds for a year and a half, I decided this was not my passion. Coming out of university I was searching for apprenticeships and opportunities that were being offered in construction. Unfortunately, the pandemic hit which impacted the number of companies taking on new apprentices, fortunately I was able to continue labouring with my previous employer. This enabled me to further learn about the practical side of the industry and develop a basic understanding of what goes into a project. "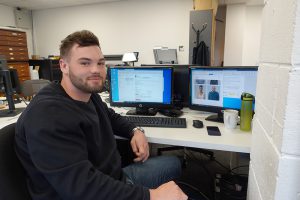 "I was aware of MPSL through social media and noticed members of their team had gone through an apprenticeship pathway, which led me to contact them. Ever since school I have always been a creative and practical person as my favourite subjects were art and design technology so to have the opportunity to learn a new career and bring forward my creative skills, has me excited for my future at MPSL.
In my downtime I often play golf at the weekends which keeps me active but also gives me another skill to focus on and improve. Another side venture I have is, co-owning a music brand in Leeds where we put on events. This was created by a couple of people I met at university but has not been able to fully thrive due to the pandemic, it is starting to build back up as more lockdown restrictions are being lifted which is all looking very promising.
I live by the quote "Don't miss out on something great, just because it could be difficult" – nothing in life is easy so you best work hard to reap the rewards. "